PRESS RELEASE: Teens & Tweens Get a Conference To Call Their Own
Teens and Tweens Get a Conference to Call Their Own
First of its kind Digital Family Summit holds inaugural conference in Philadelphia June 29-July 1, 2012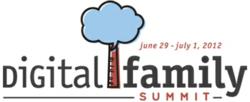 Philadelphia, PA  February 22, 2012
The old adage about families who play together is about to get a 21st century twist.
The Digital Family Summit, a conference for teens, tweens and their parents who blog, vlog, Facebook, tweet, and pin, announces its inaugural event, a three-day summit of workshops, talks, panels, and parties designed to bring some of the top teen digital influencers and their families together to share digital strategies, practical pointers, and ice cream sundaes.
The Digital Family Summit will be held in Philadelphia, June 29-July 1, 2012 at the Sheraton Society Hill.
"The Summit is designed for both parents and kids who are creating exciting content beyond the walls of Facebook," says Stephanie Schwab, chief executive officer of Crackerjack Marketing, and a Digital Family Summit founder. "The conference is geared towards families who want to learn new digital skills, explore new means of expression, and gain confidence in expressing themselves online."
With 73 million teens on Facebook and 14% of teens writing blogs, parents have a new world of digital content to consider with their kids. The conference is designed to bridge the gap for content-creating teens and tweens and their non-digital native parents who may or may not be digitally savvy.
THREE TRACKS: SAFETY, STRATEGY, AND TOOLS
The conference features three tracks: Strategy, Tools and Safety. Each track will have options available for beginners and experts alike.
    Strategy: Blogging and video experts, teen content creators, and brands will discuss how teens can make their blogs and vlogs grow, expand their communities, and work on monetization and personal branding.
    Tools: Offers hands on workshops in blogging, photography, video and content creation, giving expert and beginning digital media creators the chance to explore new techniques, learn expert tips and advance their technical skill set.
    Safety: Gives parents and teens the opportunity to develop sensible family policies regarding online safety, address including cyber-bullying, identity theft, and intellectual property rights, and examine the privacy issues inherent in digital sharing.
ACTIVITIES FOR THE ENTIRE FAMILY
In addition to workshops for young digital content creators, there will also be things for their younger siblings to do. "This is a conference for families," says Schwab. "We are planning fun activities for kids of all ages, and the whole family is invited to all meals and parties. We'll be in the heart of Philadelphia, and the city itself has a lot to offer family members who are not bloggers, who want to get out and explore the city."
There have been lots of conferences focused on moms who blog and dads who blog, but this is the first one that focuses on the kids, who are truly digital natives.
BRANDS AND BLOGGERS ARE GETTING INVOLVED
Bloggers have been very positive about the Digital Family Summit. "I'm really excited about this conference," says Ciaran Blumenfeld, author of the popular blog Momfluential. "There have been lots of conferences focused on moms who blog and dads who blog, but this is the first one that focuses on the kids, who are truly digital natives. It's the next logical step."
According to Nathan James, a conference sponsorship expert with Fishbone Marketing who is working with Digital Family Summit sponsors, "We've had a lot of interest in this conference. Savvy brand marketers understand they need to reach out to today's teens digitally, and in a different way than even three years ago. What sponsors yield from this conference will help them determine their brands' futures."
FOR MORE INFORMATION
To get more information about the conference, including speaking opportunities, sponsorship opportunities, and early bird registrations, visit https://www.digitalfamilysummit.com. Also follow Digital Family on Twitter at @digifam and become a Fan on Facebook.
# # #